AR glitch - BS group glitch
I'll make this short and simple.
"You meet people labeled as your groupmates, but they open fire on you and spray BS all over your damn face."
ulus10 is a witness. You may ask him about it - as a leader, I wasn't labeled as a member on the server. He kept reinviting me, even if I was in the group.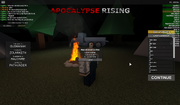 MayorJonasCcortes is the person who murdered me in cold blood.  You may see the picture of his stats on the picture on the right (and as well as me whining about this).
I got murdered with good stats. It's considerable to make a post about this.
Please do, please, oh please read this.